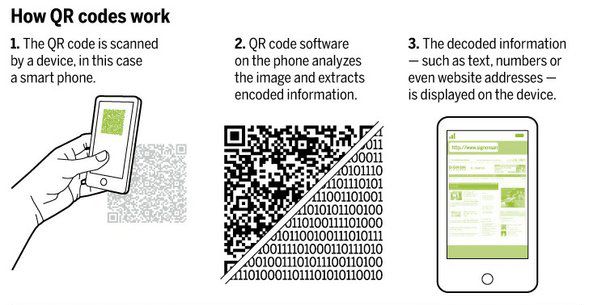 Marketing Advice: Know the Code
QR codes are little black and white, two-dimensional bar code images that, when scanned by a smartphone camera, open a link to a website, send a text message or dial a phone number. They can basically link everything in the physical world to electronic information immediately.
The best part is, you can create QR codes for free. Do a search on "QR codes" and you'll find several websites that will generate a code for a particular website address or piece of text at no cost.
Here are some effective ways to use QR codes:
• On business cards: Generate a barcode that directs scanners to your LinkedIn profile, Facebook page or website.
• On marketing materials: Add QR codes to direct viewers to a particular how-to video, send them to a Flickr photo set, invite them to follow you on Twitter or point them to a landing page that promotes a new product or service.
• For freebies: If you really want people to pay attention to your QR codes, tie them in to a promotion of some kind. Say you've placed a QR code decal in your storefront window—why not reward those who scan it with 10 percent off their purchase? Give them something small to thank them for their patronage.
If you use QR codes, keep in mind that they and the apps that scan them are still foreign to many people. Make it a point to spell out how to scan the code and help instruct customers on where they can find scanner apps.
For help creating your own QR code or to have your marketing
piece quoted, please click below
Minuteman Press Abbotsford
Fill in your details, attach your file and one of our staff will then be in contact with you regarding your job.
---
Cheap Marketing Using Short Run Digital Printing
There are many advantages to using full colour short run printing. Just started a new salesman and not sure if he will work out, have a new product to advertise but don't have a lot of money to spend on promoting it, these are just some reasons short run digital printing is needed. If you have big ideas and a small budget, digital short run printing is a great way to get your advertising, sales and marketing message out without breaking the bank. By using high quality short run colour printing, you can create high impact low quantity flyers, brochures, postcards and business cards in quantities as low as 100, 250 or 500. With low run printing, you can test different approaches or add new sales personnel easily.
The quality of short run colour printing is as good as offset lithography and less expensive for quantities under 1000. Short run printing makes test marketing cheap and easy. You can try different ideas to see which one works best. Printing lower quantities is an eco-friendly process. They is virtually no paper waste. The colour is consistent from the first sheet to the last and you are only printing the quantity you need. This means less waste. No matter what your reasons for needing smaller quantities of your print materials, short run printing is a great way to go.
Thinking of being more eco-friendly with your new marketing tools can also make short run printing an effective way to go with your next printing job. Whatever your goal, short run printing makes quality printing at low prices affordable. You can save money while obtaining high quality printed materials. Let us provide you with printing that will make you standout and be noticed.
Check us out!
Ask Minuteman Press Abbotsford
---
One great way to promote your business is to through direct marketing. Direct marketing lets you send out mailers or printed postcards with your business information to your target audience. Using this method is an easy and inexpensive way to get your business information out to a larger audience.
One important element to think about when getting printed postcards for your business is appearance. Sure, black and white is the less expensive choice, but may not always be the most effective. Black and white does not catch a person's eye as well as colour. You have a very small window of opportunity - you want the person to immediately draw attention to your postcard.
That said black and white can still be effective choice when done right. And it can also be a good choice for those on a limited marketing budget. Using printed postcards as direct mailing for your business is done in a couple of different ways. One way is to simply send out postcards to customers who have displayed loyalty to your business. This method works well to alert them to special sales or discounts. Another method is sending out direct mailing to bring back customers that have not used your business for some time.
Direct mailing is a highly effective way to drum up business. Your postcard can give information about your business or include a coupon or discount code, to entice new customers to your door.
The use of printed postcards to help your business is a definitely a good one. Many businesses use this method with success. People who receive your postcards are often appreciative of learning about new businesses they can use, especially if it includes incentives like coupons or discounts.
See how we can help your business grow...
Ask Minuteman Press Abbotsford
---
Direct Mail Is All About Growing Your Business
On the heels of a down business cycle, smart business people see opportunity.
Opportunity to capture market share. Why... because many of their competitors have cut back on marketing, and still others are just not there anymore.
Minuteman Press Abbotsford is here to help you assess opportunities that might be knocking on your door and how you might best get your value proposition out to those waiting to do business with you.
It costs you nothing to see what we can offer...
Ask Minuteman Press Abbotsford
---
If you want your marketing campaign to really be worthwhile and get the returns you expect from your investments, add that extra appeal to your marketing campaign by using...
Marketing campaigns need to grab your target clients attention. If you want your marketing campaign to be really worthwhile and get the returns you expect, then add a little extra appeal to your next one by using custom printed envelopes.
Custom printed envelopes happen to be the marketing tool that will complete your marketing package. Without them, your marketing campaign will seem inefficient and ineffective. You wouldn't print you marketing campaign on an ordinary white piece of paper. So why send it in an ordinary white envelope? That first impression that you were aiming for, would be lost.
When sending your marketing campaign to your target clients, it is important that you enclose it in a custom printed envelope. Your printed envelopes and stationery are your first contact with your target clients and show that you are a credible and professional company.
It is important your print envelope gives your target clients an impression they won't forget. Printing on a brightly coloured envelopes, imagine receiving that amongst all the white ones? Your envelope would surely stick out, but at least you have been able to make your target clients curious about whats inside.
Another option would be to create an envelope from textured or gloss paper stock. This would make your marketing campaign appear elegant, classy and upmarket, a lot different from the usual uncoated thin paper used on standard envelopes.
If you are going to invest in marketing effectively, don't go with the cheap common option. Create marketing stationery that will really help attract the attention of your target clients.
Would you like to know more...